Kirton in Lindsey has a fascinating history. Our society has lots of information about the area, and welcomes enquiries from anyone who is interested in hearing or seeing more. Please contact us for more information.
A Potted History of Kirton in Lindsey
The Romans were here; two Roman pavements were found about a century ago and traces of Roman occupation still turn up from time to time in various parts of the parish. The Anglo-Saxons also left artefacts – mainly burial urns – in the area. They probably built the first church which must have been an important one; it was important enough for the place to change its name to the Town with the Church: Kirkton, or Chirchetone as it appears in Domesday Book. What it was called before the Anglo-Saxons became Christians and built churches we do not know. Before the Norman Conquest Kirton belonged to the Earl of Mercia, whose wife is believed to have been the Lady Godiva – more famous in Coventry than here. The town was the centre of the Manor and Soke of Kirton which extended over a wide area of North Lincolnshire, including villages such as Scunthorpe, Messingham, Winteringham, Hibaldstow and many more. The Manor passed to William the Conqueror in 1066 and thereafter the Manor remained in royal hands for hundreds of years.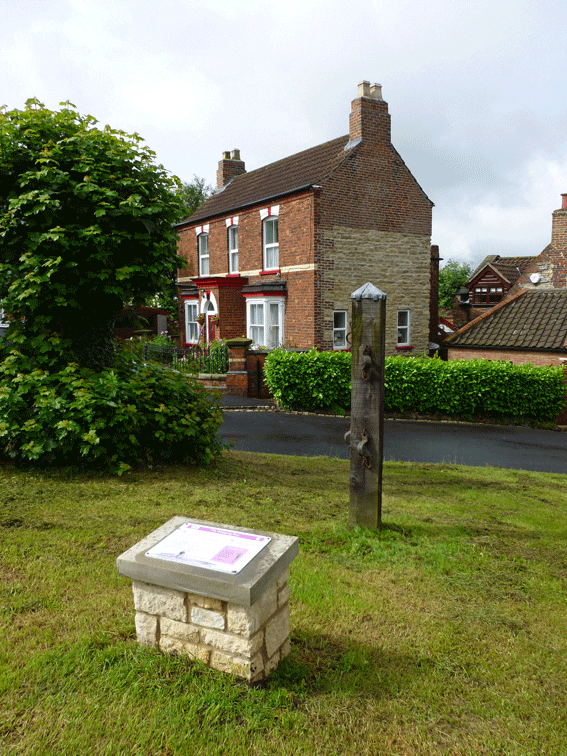 The Whipping Post 
Kirton has one of England's smallest listed buildings, a whipping post dated from the 18th Century. Thanks to funding from the Heritage Lottery Fund, we have worked with the Diamond Jubilee Town Hall and Kirton in Lindsey Town Council to produce an interpretation board which tells its story. It's on Spa Hill just outside the Old Police Station so, if you live in or near Kirton, come and take a look.
Family History Enquiries
We are very happy to help out with family history enquiries. Please contact Mary & Martin Hollingsworth, 20 Grove Street, Kirton in Lindsey, N. Lincs. DN21 4BY Tel.01652 648435 or email enquiries@kirtoninlindseysociety.org.uk